The Armed Citizen Extra Rochester police are investigating a burglary in which a city man used a semi-automatic rifle to chase two burglars from his home. According to police, two male suspects entered the home just after midnight Tuesday. Unbeknownst to the suspects, two male roommates, ages 21 and 22, were inside the house at the time of the break-in. One of the roommates heard a noise, saw the suspects inside the house and notified his roommate of the break-in. Moments later, one of the alleged burglars noticed the roommate and pointed a weapon, which was later determined to be a BB gun, at him. One of the roommates retrieved his legally owned AR-15, and once confronted, the suspects ran out of the house. The roommates then called 911. Police are still investigating the incident. (Democrat and Chronicle, Rochester, NY, 1/24/13)

TTAG Posted on February 12, 2013 by Dan Zimmerman
"Deputies say a 51-year-old man broke into the home where a 24-year-old man and his wife were sleeping.  The owner called 911, then armed himself with a pistol while waiting for deputies to arrive." So far so good. But the intruder, …
72 Year Old Great-Grandmother Holds 2 Robbery Suspects at Gunpoint Until Police Arrive (TN) OpSD –"One of the men tried to retrieve something from the car, but the woman fired a warning shot to stop them. When police arrived they found drugs, guns, and clothes meant to conceal the wearer's identity in the car."
Armed Robber in SC Tells Woman, "You're Dead!" Then Runs Off When She Pulls a Gun (SC) OpSD –"The woman was able to grab a gun from her glove box, point it at the suspect, and that's when he ran away."
Security Guard at Tax Prep Office in MI Uses AR-15 to Defend Himself, Customers and Owners (MI) OpSD –"That's when a security guard at the business grabbed a stashed AR-15 and opened fire on the would be robbers."
Texas Homeowner Shoots Intruder Four Times (TX) OpSD –"However, the intruder kept advancing toward the homeowner, who was armed. The homeowner shot the suspect 4 times, including twice in the chest."
by Paul Hsieh
The type of gun incident most media has no use for.
Yes he's a hero, but tragically with no gun, unable to really defend themselves, the wrong man is dead!
Published February 13, 2013 FoxNews.com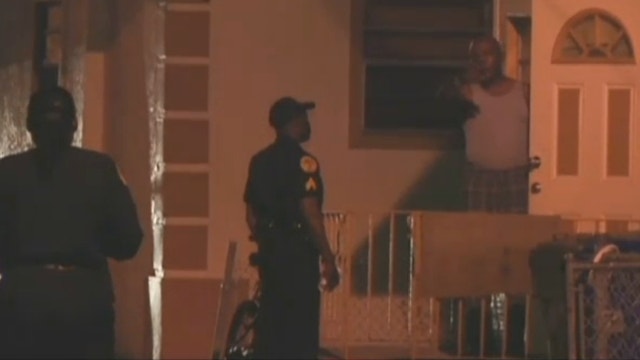 Feb. 13, 2013: This image shows the location of a deadly home invasion in  Miami. (WSVN.com)
Police say two heavily armed men fatally shot a homeowner as he tried to  protect his daughter during a home invasion.
The incident happened late Tuesday night in Miami. The father, identified as  Maurice Harris, 36, got into a struggle with the suspects when they tried to  gain entry into his 11-year-old daughter's bedroom, police told FoxNews.com. The  father was fatally shot in the struggle.
There were no other reports of injuries. The suspects were described as black  males.
Miami police spokeswoman Kenia Reyes said it appears the men were trying to  rob the home.
"We call these two men beasts. These men are beasts," Reyes told the Miami  Herald. "They storm inside the house. A little girl was asleep when she was  surprised by the gunfire. The father was just trying to protect her."
Annie Streeter, the victim's mother-in-law, said the men held Harris' wife at  gunpoint during the invasion. Relatives said that's when Harris fought back and  kept the intruders from entering the room of his 11-year-old daughter.
"One of the guys tried to get to his daughter's room, he jumped up and they  were fighting back and forth," Streeter told WSVN.com. "I guess that's when the  gun went off."
Neighbors are hailing Harris a hero. "Unfortunately, he died but he's super  dad," Terry Jones told the station. "I hope I have that much courage if  something like that would've happened to me."
by Todd Starnes Feb 12, 2013By Todd Starnes A pair of would-be Texas bandits picked the wrong church to rob. They were armed with 2×4's – but the preacher was armed with a Glock. James McAbee pastors the Lighthouse Worship Center in Beaumont. He's licensed to preach the Gospel and to shoot a gun – known around…
Published February 11, 2013 FoxNews.com
An Washington state homeowner shot a drugged-out intruder who entered his  home while he was asleep with his wife early Sunday.
KPTV.com reports that the suspect, Brian L. Creed, entered the home and  started walking down a hallway toward the homeowner, who was standing outside  his bedroom door.
When the 24-year-old homeowner told the suspect to stop, Creed allegedly  charged the homeowner, prompting him to fire a shot at the intruder, the station  reported.
Creed then allegedly tackled the homeowner and the two were involved in a  physical altercation until the homeowner was able to hold the suspect at  gunpoint until authorities arrived.
TTAG Posted on February 16, 2013 by Robert Farago
The embed code doesn't work. So click here for dramatic video of a security guard shooting an AR-15 through a wall to discourage two armed robbers from completing their day's work. "The armed couple both had handguns," myfoxdetroit.com reports. "Surveillance video shows them being greeted at the door by the receptionist. The business owner was sitting in a chair against the wall. The bad guy pointed his gun at the receptionist's head. The security guard in the office pulled out an AR-15 rifle. After the shootout, the security guard lunged to the door. 'The security guard that was inside returned fire, two shots at the suspect. Did not hit him. The suspects then fled the location," said Inkster Police Detective Lieutenant Jeffrey Smith."
TTAG Posted on February 16, 2013 by Nick Leghorn
There's no shortage of pro-gun control propaganda being pushed by the media these days. Just flip on any news channel from NBC to CBS to CNN (where last night one of the presenters said "after the break we will discuss how to win the War on Guns") and you'll see a slow and steady march towards firearms newthink. One project, a Kickstarter-funded documentary called "Assaulted," is trying to provide some balance to that propaganda by introducing the stinging bitch-slap of history, showing how gun control really got to the place it is today. The producers are raising funds to finish the project in time to still be relevant to the national debate that's raging. And while that may be a worthy effort in and of itself, it might be the way of the future for gun rights advocacy as well . . .
Yesterday a school shooting was quickly stopped before it escalated further thanks to an armed guard being on campus. A student opened fire at his middle school Thursday afternoon, wounding a 14-year-old in the neck before … Continue reading →
NRA 3, OBAMA 0: Martin Luther King Jr. High School coach shoots attackers.
Police sources tell 7 Action News that a women's basketball coach from Martin Luther King, Jr. Senior High School shot two men who attacked him as he was walking two basketball players to their cars in the school parking lot.
Police sources say the coach was walking the two girls to their cars when two men allegedly approached and one pulled out a gun and grabbed him by his chain necklace. The coach then pulled out his gun and shot both of them, according to sources.
Well, that turned out well, considering.
Posted at 11:02 pm by Glenn Reynolds
NRA 2, OBAMA 0: Newtown Votes To Request Armed Police Officers In Elementary Schools.
Posted at 2:07 pm by Glenn Reynolds
NRA 1, OBAMA 0: Armed Guard Stops School Shooting in Atlanta.
Posted at 8:47 am by Glenn Reynolds
Doug Giles: Armed Guard Saves School Last Week (Gun Control Freaks Wrong Again)?
Now if you were to ask that idiot Chris Matthews today he would assert this never happened and as a matter of fact nothing like it has ever happened, "no civilian has ever stopped a mass shooting"
(Matthews is of course a head anchor of MMSNBC [Media Malpractice and Stupid Narcissist Bullshitters Central]
Crazy gun nut shoots man just for breaking into her house
Everybody knows that guns don't protect people. More guns = more gun crimes. Like this one!
MAGNOLIA, Texas – A home invasion suspect was arrested at a hospital after a mother shot him during the crime at a Montgomery County home, deputies said Wednesday.
Erin, who asked to be identified only by her first name, told Local 2 she was putting her 6-year-old son to bed when she heard a loud noise coming from her bedroom on Mink Lake Drive Friday night…
Erin said she turned around and saw three masked men, pointing a gun right at her…
"Somehow the way it happened, as they were going down the hallway, I told them sometimes I keep money under the mattress, which is not true. But I needed to get to where my gun was," she said.
The men followed her to her bedroom.
"I was pretending to move the mattress. It's really heavy, so I was trying to move their attention to the mattress because they wouldn't take their eyes off of me. I needed a split second for them to take their eyes off of me. I said, 'It might be under here.' They started talking to each other in Spanish and then a roll of duct tape came out," said Erin…
"They all turned around and looked. I grabbed my gun, cocked it, I turned and shot him right in the stomach," said Erin.
I think it's pretty obvious what happened here. Some hardworking gentlemen from the Hispanic community were just trying to make a living selling duct tape door-to-door. They were going for the hard sell because times are tough, especially when you're a minority. Then this demented hillbilly racist went nuts and just started shooting at them. And because it's Texas — gun-wacko central! — they arrested the victim.
Are you happy now, Wayne LaPierre? Are you satisfied?
(Hat tip: William Jacobson)
P.S. Why Does Self Magazine Think Women are too Dumb or Crazy to Own a Gun?
Guns and Gear | Grae Stafford
'Civility is only required of us, civility doesn't count for them'
Sheriff urges citizens to take firearms class
Tuesday, 12 Feb 2013 04:42 PM
A body thought to be that of a fugitive ex-cop was found in a burned out cabin in the mountains above Los Angles on Tuesday after a fierce gunfight with police that killed a sheriff's deputy and wounded another, U.S. media reported.
Authorities said they presumed the man involved in the shootout was former Los Angeles police officer Christopher Dorner, 33, who is suspected of a revenge-fueled killing spree targeting police and their families.
California authorities launched a six-day manhunt for Dorner and police believed they had cornered him in the mountain cabin…
Dorner case blowback, OMG:
According to CBS News, Los Angeles Police officers were guarding the  Torrance, Calif., home of a high-ranking police official early…»
9:42 PM  02/13/2013
I wonder how the families of Dorner's victims felt when they heard this, in the  unlikely event they were watching CNN:
"Now, don't get me wrong…" Killing innocent people is bad, but it's kind of  exciting, like watching Jamie Foxx "kill all the white people."
And if you have a problem with that, you're the racist.
(Hat tip: Greg Hengler)
§  Exclusive B&R Advertisers

Buy this e-book from this Nationwide Concealed Carry ad and the publisher will make a donation to Black & Right
On DGU (defensive gun use)
One reason the gun debate seems so radioactive is that gun-control proponents refer almost exclusively to the cost of widespread gun ownership, while the NRA and its allies focus on guns as instruments and symbols of self-reliance. Very few, if any, participants in the conflict acknowledge that guns are both bad and good, depending on how they're used. Robbers use them to stick up convenience stores, and convenience store owners use them to stop armed robbers.
If guns have a countervailing benefit—that lawful firearm owners frequently or even occasionally use guns to defend themselves and their loved ones—then determining how aggressively to curb private possession becomes a more complicated proposition.
As with everything else concerning guns in this country, the DGU question prompts divergent answers. At one end of the spectrum, the NRA cites research by Gary Kleck, an accomplished criminologist at Florida State University. Based on self-reporting by survey respondents, Kleck has extrapolated that DGU occurs more than 2 million times a year. Kleck doesn't suggest that gun owners shoot potential antagonists that often. DGU covers various scenarios, including merely brandishing a weapon and scaring off an aggressor.
At the other end of the spectrum, gun skeptics prefer to cite the work of David Hemenway, an eminent public-health scholar at Harvard University. Hemenway, who analogizes gun violence to an epidemic and guns to the contagion, argues that Kleck's research significantly overestimates the frequency of DGU.
STORY: Newtown Fallout: Cerberus Retreats From Guns
The carping back and forth gets pretty technical, but the brief version is that Hemenway believes Kleck includes too many "false positives": respondents who claim they've chased off burglars or rapists with guns but probably are boasting or, worse, categorizing unlawful aggressive conduct as legitimate DGU. Hemenway finds more reliable an annual federal government research project, called the National Crime Victimization Survey, which yields estimates in the neighborhood of 100,000 defensive gun uses per year. Making various reasonable-sounding adjustments, other social scientists have suggested that perhaps a figure somewhere between 250,000 and 370,000 might be more accurate.
What's the upshot?
1. We don't know exactly how frequently defensive gun use occurs.
STORY: After Connecticut: Guns, Gun Control, and Gun Culture
2. A conservative estimate of the order of magnitude is tens of thousands of times a year; 100,000 is not a wild gun-nut fantasy.
3. Many gun owners (I am not one, but I know plenty) focus not on statistical probabilities, but on a worst-case scenario: They're in trouble, and they want a fighting chance.
4. DGU does not answer any questions in this debate, but it's a factor that deserves attention.